Last Updated on May 25, 2022 by Hosting Advice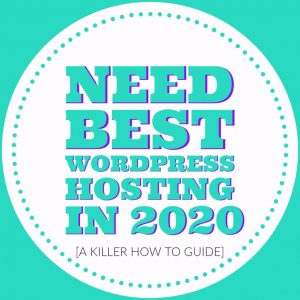 Choosing the best WordPress hosting provider in 2020 is by far the most important aspect of building a business website. Your SEO, user experience, website's success relies on the hosting provider you use.
Which is the Best WordPress Hosting Company in 2022?
There are many WordPress Hosting Recommendations to choose from. Even if you narrow down from popular ones like Bluehost, SiteGround, HostGator, WP Engine, etc to new kids on the block but doing a great job like Host & Protect. How do you know which is the best WordPress web hosting for your website? Whether you need a dedicated enterprise solution or you just need managed wordpress hosting to get started, you must have proper detailed info at hand.
To help you pick the right WordPress hosting, we did the research for you and created a detailed comparison of the Top 10 Best WordPress Hosting Companies of 2022.
Want to know How to Choose the Best WordPress Hosting services in 2022?
Let's get straight to it:
Depending on your project, you will sometimes just need a static page listing your services and address, with perhaps a blog feature to share content with your audience.
Cost is a critical consideration when selecting a web host. Fortunately for you, the cost of server resources is so low nowadays that it is relatively simple to find decent hosting even on a small budget. Cheap hosting plans are on the market in 2020, so be sure to find the one that suits you best by reading the following lines.
Large companies can spend hundreds of dollars each year on dedicated web hosting or virtual private server hosting, but there are also many web hosts designed specifically for small businesses or small projects.
This is exactly what the services presented here are focused on – these are good web hosting companies that will put your website online while offering you the most competitive prices on the market.
At these prices, you will obviously have access to the "shared" but here we present the hosts offering the best value for money in our opinion.
Also Read – 20 Questions To Ask When Choosing WordPress Hosting Provider
Before choosing a good WordPress hosting services you have to take into account the 3 most important factors:
Speed: also known as "loading time"
Uptime: must be at least 99.94%
Customer service: they should help you with questions related to WordPress and general hosting 24 hours a day, seven days a week


In this article, we are going to talk to you about the best WordPress hosting services that exist today. Keep in mind that not always the option of the greater economic cost will be the most convenient.
For you, to make it easy and to dispel the doubts that you may have, we put at your disposal what is the best hosting for WordPress according to our hosting experts.
Here is the list of web hosting service providers that have proven to have very strong points, great value for money and a very remarkable customer support service.
# BlueHost – Reliable WordPress Hosting
BlueHost is a well-established hosting solution that helps businesses of all sizes get started and have an online presence. With over a million domains under their wing, they offer fantastic and reasonably priced shared hosting subscriptions that include everything you need and more.
If you focus on medium-sized markets, you can take advantage of BlueHost's annual new customer subscriptions at a price that shakes the market.
However, you will have many benefits and discounts by taking a Pro subscription for a longer duration, subscription designed for large organizations.
Like an unlimited number of websites, bandwidth, professional site backups, domains, unlimited storage and email accounts, SSL, dedicated IP and very fast page loading times.
Why choose BlueHost WordPress Hosting Services?
Excellent server performance – average hosting time greater than 99.95%
Server speed (TTFB less than 500ms) meets expectations
Well-recognized brands in the accommodation sector
Positive results of the 2013 and 2016 RSHW webhost survey
Comprehensive self-help documents and video tutorials
Full daily backup and restore of the account
Newbies-friendly – the easy-to-use control center
Flexibility – upgrade to VPS and dedicated hosting
# HostGator – Houston-Based WordPress Hosting Provider
We are here to break down one of the most popular web hosting solutions on the market today, HostGator, to see if what they have to offer is what you need to run a successful website, without getting into the ground with the problems of the site.
It's probably because the HostGator based in Houston is one of the largest web hosts on the planet with more than 9 million Domain names hosted. They have collaborations with tiny Tech titans Cisco and Linux.
HostGator has existed since 2002, originally founded by Brent Oxley before being acquired a decade later by Endurance International Group (EIG), which also has Justhost, iPage, and Fatcow, among others.
They have two data centers in Houston, Provo and Utah. The company has become a highly successful international brand.
In early 2012, HostGator opened an office in India to expand its international reach. Since then, HostGator has become a true Hosting brand in India.
HostGator WordPress Cloud also ranks # 2 in our list of best-ranked hosts in general.
Differences between Shared HostGator and HostGator WordPress Cloud Hosting:
Shared HostGator
Cost: $ 2.75 / mo
Up: 99.98%
Speed: 977ms
HostGator Cloud – recommended
Cost: $ 2.99 / 55 (ability to pay monthly)
Up: 99.96%
Speed: 42 ips
Why choose HostGator?
Very good uptime (99.98%)
HostGator uptime is improving, but still below average.
HostGator conveniently offers 24/7/365 support through the Phone, live chat and email.
45 Day Money Back Guarantee
Greater Security and free migration
# SiteGround – Perfect WordPress Hosting for eCommerce Website
SiteGround.com is recommended by many in different blogs and forums. It is also officially recommended by WordPress.org, Joomla and Drupal.
SiteGround has amassed 800,000 domain names around the world, with data centers in the United States, Europe and even Asia.
Not bad, considering that they started with a single employee in 2004, which makes them one of the youngest in the hosting industry today.
YES! SiteGround is perfect for those who care deeply about Customer Service, without sacrificing fast page speeds or impressive uptime either.
They also offer a lot of additional features that might be perfect for you if e-commerce/WordPress is your goal, or if you want security to be handled by someone else.
Currently, its price is also on par with many other lower quality web hosts, so it is the perfect time to act and take advantage.
Why choose SiteGround?
Awesome uptime (99.99%)
Charging time (~ 716ms)
Friendly and competent customer service
The hosting is optimized for WordPress in all the plans that offer
Free transfer of the site
Free security complements and e-commerce facilities
30-day money back guarantee
# JustHost – Ecological WordPress Hosting
A hosting company and domains that already has a great track record on the internet is JustHost. It is one of the few that offers for only $ 3.45, unlimited space and bandwidth, plus a free domain for life that includes the renewal of it.
Ecological Hosting: It is something that several hosting companies are adapting, are committed to the environment and offer a service with renewable energy generators to run their data centers.
If you are looking for a discount, you can choose a Justhost coupon and at the time of choosing a package to hire, enter the code of it, validate the discount and get the rebate.
Why choose JustHost?
They include free support for WordPress, Joomla, OSCommerce.
Unlimited domains & subdomains
Customizable error pages
Anti-spam protection
Unlimited storage space
Website builder (if you do not know how to make websites with this application, you have them in 5
minutes)
E-Commerce facilities so you can install shopping carts.
Plans starting at $ 3.45/Month.
Free domain for life
# A2 Hosting – Cheapest WordPress Hosting Provider
Founded in 2001, A2 Hosting is an independent hosting company. This means that they are not part of the large conglomerate of known web servers called Endurance International Group (EIG).
That if you did not know, it does not have the best reputation. In fact, some hosting providers such as HostGator and Bluehost are owned by EIG and may lose customers just because of this fact.
There is a lot in favor of A2 Hosting. The 3-step registration process is quick and easy. The "welcome" email arrives within seconds after registering and includes everything you need to immediately start using your hosting plan.
The shared hosting plans provided unlimited bandwidth, unlimited disk space, unlimited email accounts, and unlimited domains, as well as the intuitive cPanel control panel, and the Softaculous Application Installer, which is beginner-friendly.
In addition, A2's lowest-priced shared plan provided 100% availability, as well as some of the fastest server speeds we've seen to date.
Why choose A2 Hosting?
Unlimited data transfer
Free SSL certificate and SSD solution
Compatibility with 24/7/365
A2 Optimized Site Accelerator complete with Turbo Cache, OpCache / APC and Memcached
3 data centers available
Free Cloudflare CDN
HTTP/2, SPDY and Edge Side Include (ESI)
99% uptime guarantee
PHP 7.x version available
Unlimited email addresses
Optimized features of A2 Magento
# WP Engine –  Specialized WordPress Hosting
Founded in 2010 in Austin, Texas, WP Engine set out to provide specialized WordPress hosting, as the WordPress content management system continued to prove to be the most popular blogging platform available.
Built on a world-class network infrastructure, integrated with the best technology partners such as Google, AWS and New Relic, it is a private company with data centers 18 that span the globe.
WP Engine comes prepared for PHP 7.2 and even offers to everyone, whether they use their hosting or not, access to their exclusive WP Engine Speed ​​Tool (although you do have to provide an email address to get results, which may not be suitable for some).
Why choose WP Engine?
1 WordPress website
Up to 25K visits per month
10GB of local storage
50GB of bandwidth per month
Free site migrations
Global CDN
Automated SSL certificates
Page performance tool
24/7 live chat support
# DreamHost – Secured Web Hosting Provider
DreamHost is a very used hosting and praised by its clients. It was founded in 1997, which shows that it has great success and is supported by its vast experience. The headquarters is located in Brea, California and belongs to the company New Dream Network LLC, this company was created in 1996 by four students of the university.
Although its operation is flexible and stable, and its infrastructure can overcome the barriers of problems that may arise, such as in mid-2006, when two power outages in the building where the offices were located, they hit hard at hosting services. However, growth does not stop and continues to accumulate customers.
There are various services that can be obtained through the DreamHost platform. Currently, it has four hosting packages that have different characteristics and values, the main differences being the spaces on the hard disk and the bandwidth.
We can say that the basic plan is sufficient for the vast majority of Internet users who have their sites on the Internet, although there are also combos for those projects with greater volume and demand.
Why choose DreamHost?
Offers the registration of a free domain.
It allows the addition of extra services.
Compatibility with CloudFare.
Offers optimization for WordPress.
Packages with unlimited domains and unlimited email accounts.
Technical support active 24 hours a day.

# InMotion Hosting – Trusted Web Hosting Provider
InMotion is a company with origin in the United States that was created in 2001 and since then it has been positioning itself in the web hosting market. It has a large number of resources and tools, attached to a variety of hosting packages distributed among shared, VPS and dedicated server. The trend of InMotion is to provide solutions to all types of customers, being able to customize all the strategies to solve the needs of each user.
For those protecting the environment, we like to mention that InMotion is a green hosting, which reduces the carbon footprint; and was even the first to open a green data center in the city of Los Angeles.
You can also choose to create blogs, galleries and others, being a hosting that provides compatibility with different management systems such as Joomla, Gallery2, Gbook, WordPress, etc. In case you need to use multimedia on your website, you should know that InMotion Hosting is compatible with Real Audio and video, Midi File, Macromedia Shockwave and Flash.
Why choose InMotion?
Domains and unlimited sites.
Advanced firewall for protection.
SSH access.
MySQL database is unlimited.
Reseller WHM.
Optimization for e-commerce.
FTP accounts and unlimited email.
Unlimited cPanel subaccounts.
90-day satisfaction guarantee.
# iPage – Unlimited Web Hosting Provider
iPage is presented as a quality hosting company, providing different types of services to complement each other's tools and allowing all customers to access the configurations they need to maintain their projects.
The company iPage Web Hosting was created by Thomas Gorny in 1998, who was developed as vice president, director and later President of the company in 2006. After the creation of iPage, it was sold and acquired by the Endurance International Group (EIG), a company that owns the ownership of other hosting companies such as FatCow and BlueHost.
Although iPage has been active since its launch, it began to gain popularity after 2009 when it was re-released. Nowadays it is positioned as one of the best hosting companies and has around 2 million sites hosted on its servers.
Within this hosting, you can find different services that will help you to make your projects quickly and easily. All the tools that are used to create web pages are included in all hosting packages. You can also select site owners to assemble both traditional and basic pages as well as innovative and complex ones.
Why choose iPage?
Unlimited space
Unlimited broadband
Free Domain
Unlimited email accounts
YellowPages enlisted for free
Parallels vDeck 4 control panel
Free Sitebuilder
Unlimited MySQL database
Free phone number (USA)
Secure FTP accounts
Shopping cart with PayPal integration
99.9% money back Guarantee
# Host & Protect – Best WordPress Hosting Provider
If you are looking for an economical, simple and full of benefits way to host your websites, HostAndProtect is your best option. Undoubtedly, when we want to hire a hosting service for our domains, we should take the trouble to analyze different options in order to find the one that can best meet our needs and provide us with an optimal and complete service.
In this case, we will analyze the Host And Protect hosting service provider, a company that was founded in 2018 by Paul Dhaliwal and from that moment offers services for both individuals and companies, providing different options to facilitate the work of having websites.
The headquarters is located in Dublin Blvd, Dublin, USA and from the portal, you can hire domains, hosting and extra services Worldwide. The prices are very accessible and has specialized technical support that works 24 hours a day.
Host And Protect is committed to providing high-quality services to its customers. Interestingly, the company has increased the number of subscribers they have through referrals from the same customers, as they say "by word of mouth", these are generated by the commitment to exceed the expectations of customers.
Why choose HostAndProtect?
Space in the HDD
Unlimited MySQL database
Secure FTP accounts
Unlimited space
Live and Active Firewall
High Spec Servers
DNS, Email, and Web hosting on separate servers
Daily Backup
Code Scans
Free emails accounts
Need Control Panel to Manage WordPress
Lockdown WordPress
Regular Security Scans
When you have found a hosting provider and a creator of websites that meet your requirements, you will almost be about to start the creation process. When you have everything ready to start, get the ideal domain name and choose one of the many hosting options offered by Host And Protect.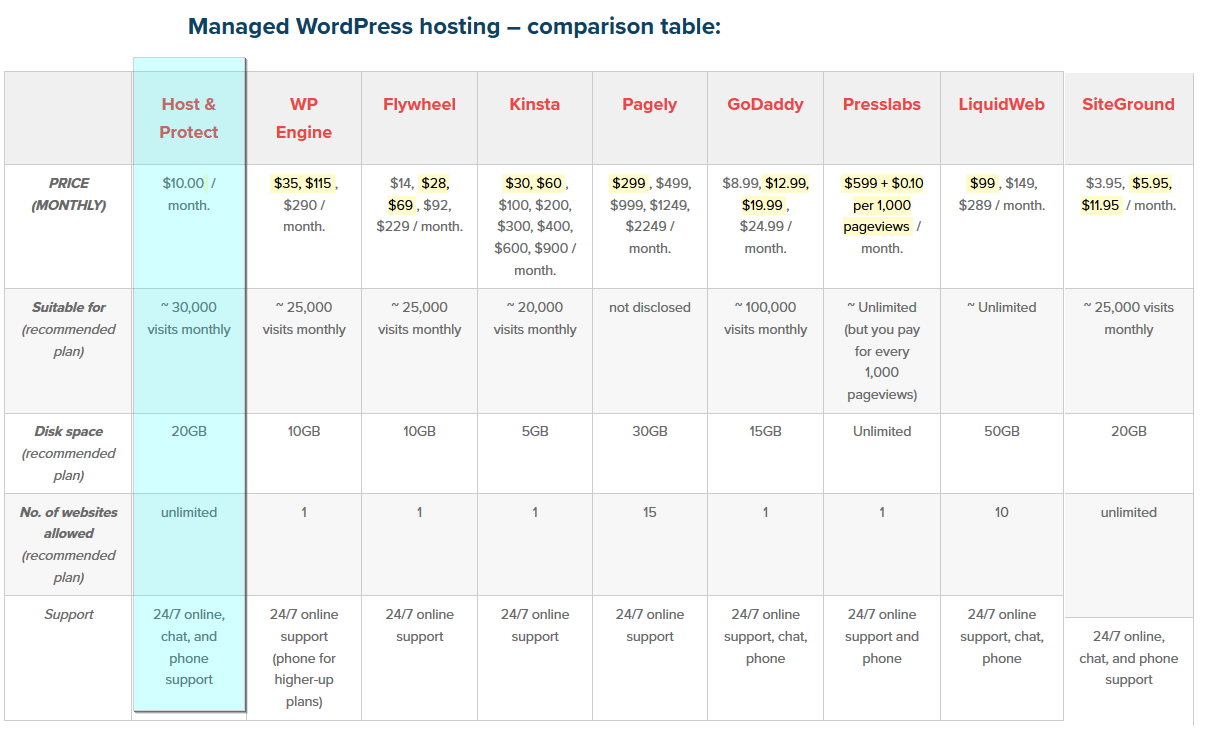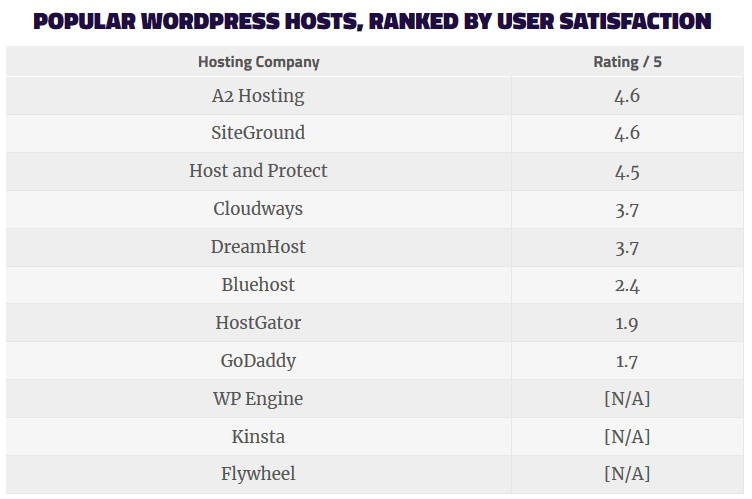 Also, Find out the List of :
Types of WordPress Hosting
While the market offers several types of hosting that meet different needs, we present the 3 most common:
Shared Hosting
Dedicated server
VPS (Virtual Private Server)
Each of them with different features and specially created for the specific needs of each client.
Shared hosting is a type of hosting where the provider rents small spaces to several websites within the same server. Thus, all customers host their content and at the same time share server resources, among other CPUs, processor, RAM, bandwidth, IP address or monthly data transfer.
It works as an apartment building. The building (server) has certain divisions that form small dwellings inside. Each department (shared hosting account) is rented by different people and among all share services such as elevator, surveillance, maintenance, light, or water (resources).
If the elevator breaks down and one of the tenants has not paid their maintenance fee, then it will not be repaired until the tenant liquidates its debt.
What is a dedicated server?

A dedicated server is one whose exclusive use is of a single client. It does not share resources with other people or companies. Since it uses an entire server, so that performance is not affected by traffic, as can happen with shared hosting, in addition to having a higher level of security.
If shared hosting could be compared to renting an apartment, the dedicated server would be like renting your own home, since you would be renting the entire property.
You do not share services with anyone – if you forget to pay for electricity, the only one affected is you.
What is a VPS (Virtual Private Server)?

A VPS (Virtual Private Server), is a web storage service characterized by a physical server divided into independent virtual partitions capable of working with its own operating system and without sharing resources with other VPS. The service is similar to shared hosting, but with the benefits of a dedicated server.
The VPS is usually compared to shared hosting because the same server is virtually divided and rented by different clients. However, in this case, the performance of web pages is not affected because resources such as RAM, processor, bandwidth or data transfer capacity are not shared among multiple users, so their benefits are compared with the dedicated server.
A VPS is like a fractionation. The server is divided into a number of individual lots in which houses are built with their own services (virtual servers). Each house is rented by different tenants.
The only thing they share is the cost of lighting the streets inside the subdivision and the guard who opens and closes the gate.
WordPress Hosting – How to choose the best for your small business site?
Choosing the best managed WordPress hosting is the second most important decision when creating your online project with this content manager. As you should know, the first decision when starting your website, online store or blog is to choose a domain name.
As it is a vital decision for everything to go smoothly, it is not enough to take the choice of an economic hosting plan. You will have to base yourself on a series of key factors so as not to make mistakes with your decision.
This way you will avoid problems such as server crashes, too slow web loading speed (something fundamental in SEO) or having to migrate your web to a suitable hosting.
It seems a no-brainer but you'd be surprised to know how many bloggers or website owners have to migrate from web hosting because they have not known which is the best WordPress hosting for their site.
In this article, you will learn how to choose the best web hosting provider either for online stores, blogs or any type of web.
You can see all the details that a good server must have so that you avoid problems and have your blog or website in a quality web hosting.
There are hundreds of thousands of web hosts out there, the vast majority of which meet the WordPress minimum requirements, and choosing one from the crowd can be a chore.
There are many services offering free WordPress hosting so you can try out their services first. Just like flowers need the right environment to grow, WordPress works best when it's in a rich hosting environment.
What makes Host And Protect the Best WordPress Hosting Solution?
Probably what makes Host And Protect famously. They provide affordable shared hosting for all. If you are a blogger or a small business owner, Host And Protect Shared Hosting is the perfect choice for you.
Their plans start at $10 per month. The first plan is called Secure WordPress Hosting. It includes unlimited disk space, SSD in the right place, Daily Backup, Active Firewall and Code Scans.
If you need to host more websites, you must choose a $45 per month hosting package. If you need more power and extra features, you should consider this ultimate plan.
For advanced users, they have a premium package called WordPress Security Maintenance Service that offers many more additional features such as free SSL, a dedicated IP address, pro site backup, and domain privacy.
They offer some features with their shared hosting as do their competitors. You can get a dedicated IP address, as well as site locking functionality for a bulletproof WordPress security and backup to keep the data of your WordPress website if you are not satisfied with the proposed backup feature.
They also offer the latest Cpanel with their own modifications. Which means they have added extra features to the original Cpanel.
Reliable and prompt technical support, worldwide, 24 hours a day, 365 days a year is available.

Due to the popularity of WordPress, several web hosting providers have chosen to specialize in WordPress and offer what's known as managed WordPress hosting. Choosing a web host can be one of the toughest decisions you make but we would love to make it easier for you. Check out this post about managed WordPress hosting – pros and cons.
Need help?
WordPress hosting can be a complicated thing, and we understand that.
We are here to support you. If you find yourself stuck while setting up your site, or have any WordPress hosting question, we're here for you and we're happy to help. Feel free to contact us here.