Last Updated on September 4, 2020 by Hosting Advice
In many cases, the fact is overlooked that web hosting is one of the main components of every successful WordPress website.
There are different types of WordPress hosting options available such as Free, Shared, VPS, Dedicated, and Managed WordPress hosting.
Free Hosting
Many providers offer free space for your business, but in reality, it will be chargeable at some point as it doesn't end up completely free.
Free hosting is generally not recommended by the experts as they may ask you to advertise them on your website in exchange for free space.
It can be harmful to your website's growth and traffic; also, it's unreliable as your information and data are at huge risk.
Shared Hosting
When ample amount of websites use the same server connected to the internet, it is called shared hosting. This can be economical due to the divided cost among the websites using that same server.
But if in any case, the server goes out for any reason then your website will surely go down and may take time to recover.
VPS (Virtual Private Server) Hosting
VPS is similar to a shared web hosting, where many websites use the same web server, but your website data is secure from other customers who are using the same web server.
We can say that there may be minimum performance guarantees, and in this case, your website won't be slowed down if another user's website is down.
Dedicated Hosting
It means that your business/organization is the only one using the server. If you have high volume traffic, then switching to a dedicated is the best decision. It offers larger bandwidth capacity, security, stability, and control.
Managed Hosting
Offers premium support option with extremely fast load times, security, expert support, daily backups, and automatic updates, and essentially no downtime of your website. Maybe this sounds safer, but it can cut your pockets because of its costs.
As the owner of a WordPress blog or a website, choosing the best host provider is one of the most crucial decisions for your business. Your website is an online store that offers sales, support, and marketing all across the world.
You must be aware of the fact that your web hosting provider plays an important role to keep your web site always up, online, fast and secure so that your potential and current clients can enjoy the services.
Choosing the right Web Hosting provider is not an easy job with a plethora of options available in the market. Consider the parameters that fit your business needs.
You should also read about the advantages and disadvantages of managed WordPress web hosting which will help you decide why you should go for managed WordPress hosting or why not?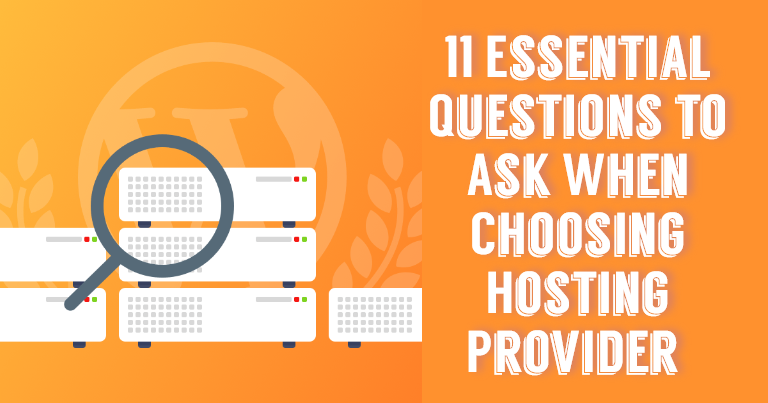 How do you know which managed hosting provider is best for you and your website?

Well, i would suggest you reading through our managed wordpress hosting guide before proceeding further.
When it comes to choosing the best hosting company for a WordPress site, there are important questions to ask to make sure they are the right fit .
Find the most important questions to ask when selecting a WordPress hosting provider for your business & save you headaches in the future!
These can be, What kind of server reliability and uptime scores do you offer? What is your security policy? Do you offer a range of hosting offers? Do you provide SSL? and many more.
Host and Protect has put together 20 questions you should ask before you select a WordPress Web Hosting provider to help align your business needs.
 Does the company offer a WordPress-specific hosting plan?
This is one of the basic questions that should be asked before moving forward with any other queries as familiarity with WordPress is necessary while hosting a WordPress site.
Also, if a hosting provider has a WordPress plan, then make it a point to ask how it differs from their other services as in many cases it's usually seen that the services only meet minimum requirements for hosting a WordPress website.
Does your website hosting provider meet the hosting requirements?
Providers must be able to operate your website through many popular providers to meet the hosting requirements, but you should always ensure before making any decision and spending money.
Your host must support:
PHP version 5.6 or greater
MySQL version 5.6 or greater OR MariaDB version 10.0 or greater
Does the shortlisted website hosting provider have experts in their team?
Experience speaks better than words as having experienced, and well-versed members in the team can anticipate common errors and often provide guidance for various settings, speed, and uptime.
They can be quick in fixing issues reported within a lesser time frame.
What is the PHP version used by the providers?
PHP is a language used for web development on a server side and is used to run a web server. Ideally, the web hosting provider should be using PHP 7 as it offers great performance over PHP 5.6, and also assures that your hosting plan will be compatible with future versions of WordPress.
Is it a well-known provider in its field?
Choosing a well-known provider has its benefits. If people have used their services then definitely, they have proved to offer you great services as well.
Search for the hosting provider reviews and testimonials from the other users to know how have other businesses felt about their hosting services. This can surely be of great help.
What kind of uptime score and server reliability does the provider offer?
It is important for a web host to operate on a stable network and a powerful server as well. Having a 24*7 operating web host is a must. The recommended uptime score is 99.5%, and uptime below 99% is unacceptable.
There are many ways to obtain a web host uptime information. There are many tools to monitor and track your website hosting provider. Ask them the questions to know more.
Does the provider offer you a one-click backup and restore functionality?
There may be a situation when you want to roll back your website data to back up from the previous day or week for many reasons.
So, for this, it is important to have an easily accessible backup that allows an efficient way to restore any data.
What is your security policy?
Know about the security measures that are taken by the hosting provider to secure your website's data. You must be aware of how the malware/virus scans are conducted.
The hosting provider you choose should have proper security processes in place (SSL certificates, etc.) to protect any sensitive data on your WordPress site.
Do they offer SSL?
SSL stands for Secure Sockets Layer to keep an internet connection secure and to safeguard any sensitive data from breaching. If you have a website that stores user information, then SSL is a must. Ensure that they offer all the security needs as per your requirements.
How responsive are their tech support team and customer service?
Technical support should be available 24×7 including holidays as well. Pay attention to how quickly you hear back from them, how about the politeness while dealing with the users, and how much information they provide to resolve an issue.
It's important to know that how the provider responds to your queries as this indicates the level of customer service you can expect from them. You need to dig out hard on the website, check reviews, and contact their customer service as well.
Several websites hosting providers are known for their excellent customer service, while others leave something to be desired.
What is your budget to avail services from providers?
You need to decide the amount of money that you can spend each month or year on a hosting provider. Determining your business needs is most important to you so that you can settle on a budget amount.
Remember, it doesn't depend on cheaper or expensive options; the perfect services speak their worth.
 How many customers they have on each server?
If you are opting for a shared hosting solution, then it is obvious that you share server space with other websites as well. So, the total number of websites will have an effect on the website's speed.
It is important to ask your hosting provider about the exact number of customers on the server.
What if I am not satisfied?
In order to know about the service, you also need to ask about the trial period offer or any guarantee if we select them for our website.
Before finalizing the deal, you need to check about the satisfaction guarantee of the provider and take your decision accordingly.
How much support is needed for the website to decide a provider?
Depending on your technical needs, you will want to know how easy it is to set up your hosting provider and manage your account as some providers offer you step-by-step assistance that is needed by you while many can set up the hosting for you.
The type of support you are looking for will depend on how much support you will need.
Do they provide Multiple Add-on Domains?
Many website owners have more than one domain, so if you choose a hosting provider that allows multiple domains, you are locking a good deal.
Thus, it is necessary to know about the domain capacity to make a final decision. So, make sure you have enquired about the capacity in advance.
What kind of security features can I expect?
There is a lot of data received through your website, so finding out that what security features do the hosting provider offers is the most important thing. There are many questions to ask like what will happen if it's a systems failure?
Will your website recover and resume all operations as before? What if a hacker breaks into your coding? Can your website detect and prevent a cyber-attack, and hacking?
What can you do when there is a natural hindrance?
If they are a good hosting company, then they will take responsibility for downtimes and outages, even when the circumstances are out of their control.
To secure your business, you also need to know what if the uncontrollable events like weather disturbances, power outbreak, or more hits at any point in time.
Are they capable of handling these issues as well as some web hosts suspend their charges during emergencies to ensure that their customers are not being unfairly charged for service that is out-of-order?
Can I easily scale up when I need to?
A good host provider is able to accommodate your needs like more storage, RAM. CPU power, bandwidth and more if you need it.
However, there are many in the market who can easily trap people in some pretty inflexible contracts, so it's definitely a good practice to check and confirm if the hosting company allows for upscaling in resources like bandwidth and storage space or not.
If my needs change with the time would you be able to accommodate?
With increasing time and growth, it's obvious that your needs are also changed and you may require good features so; it's always a great idea to confirm beforehand whether your hosting company can accommodate your business needs.
What is the security policy, and what does it include?
If you are going to finalize a Web hosting provider, then it's great to know whether the security policies are in place. Is your information safe with them as you will always want to work with a host that will conjoin with your efforts for security?
Asking yourself and your hosting provider, these questions can help you determine the best option for you. If you are looking for a secure wordpress hosting service that will help you optimize your website's performance, then Host & Protect is a great option to help your business.